The way we log in to My.Olivet is going to change next Thursday evening, February 9, prior to maintenance night which is on Friday, February 10.  This will require some additional downtime so My.Olivet will be unavailable Thursday, February 9, from 8:00 p.m. until approximately 2:00 a.m.  Links will be provided during the downtime on a temporary My.Olivet page in case you need to access Canvas, email, Self-Service, or other systems.
After the change, there are two things you need to know.
The My.Olivet login screen will look completely different than it does now.  See the screenshot below. It will be the same screen that faculty members and students use for Canvas and that everyone uses for the web version of MS Outlook.
You will need to enter your entire ONU email address, not just your username.  (Example:  jxsmith@olivet.edu)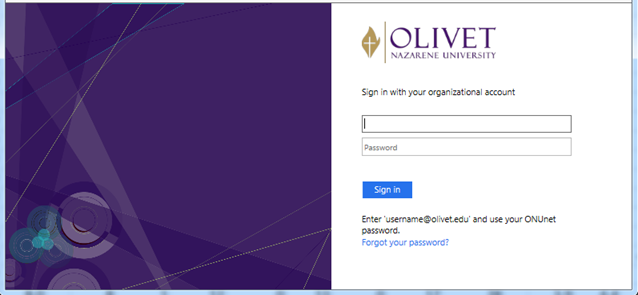 Once you log in, My.Olivet will look just the same as it did prior to this change.
The new authentication method is called Active Directory Federation Services (ADFS).  Moving to this authentication method will allow us to integrate Outlook calendar items and tasks to "My Week" and "My To Do" in My.Olivet in the future.
If you have any questions or problems, please contact the IT Help Desk.