Microsoft Forms is a simple, lightweight tool that lets you quickly create a form, collect responses in real time, and view automatic charts to visualize your data. You can build a form in minutes with no training necessary and respondents can fill it out on any browser without having to install a separate app.
With Microsoft Forms, you can create surveys, quizzes, and polls, invite others to respond to it using almost any web browser or mobile device, see real-time results as they're submitted, use built-in analytics to evaluate responses, and export results to Excel for additional analysis or grading.
Microsoft Forms is part of the Microsoft 365 Suite which all students, faculty, and staff at Olivet Nazarene University have access to for free.
With Microsoft Forms, you can create:
Surveys: Collect customer feedback, measure employee satisfaction, and organize team events
Quizzes: Measure student knowledge, evaluate class progress, and focus on topics that need improvement
Polls: Find out what the class thinks of your trip idea, where the team wants to meet, or how attendees react to your presentation.

Microsoft Forms is deeply integrated with Office365 apps to provide a seamless experience for basic data collection.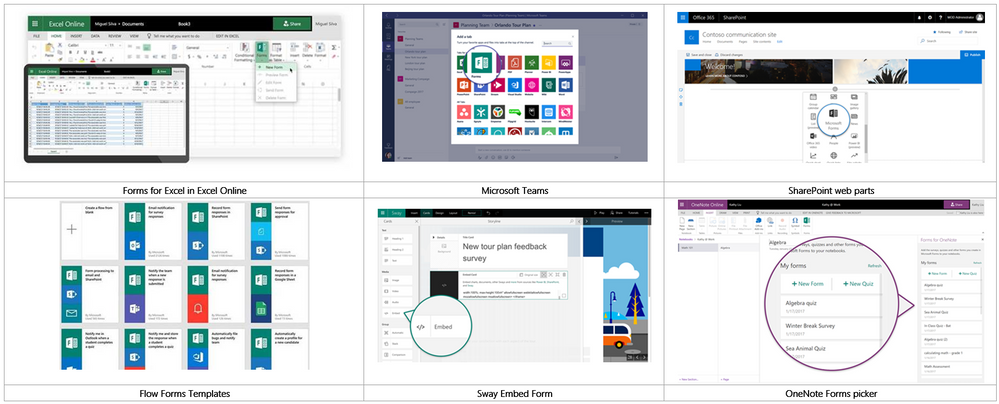 We also have new tools for more heavy-duty needs, as you can also create custom forms with PowerApps and SharePoint lists. You can streamline, automate, and transform your business solutions with rich forms, process automation, and custom mobile apps.
As part of the Office 365 suite, Microsoft Forms adheres to the compliance, security, and privacy levels you've come to expect from the Office 365 apps. You can collect information without users having to go to non-secure solutions, and there isn't a need to build and maintain custom surveying tools.
FAQ
Can someone without a Microsoft account take my survey or quiz?
Which platforms work with Microsoft Forms?
Which web browsers work with Microsoft Forms?
Is Microsoft Forms available for desktop and mobile?
Languages supported by Microsoft Forms
How do I translate my form into another language?  
Accessibility support for Microsoft Forms 
Start to create your first form from http://forms.office.com. Find more information at here.